In the Studio w/JD Moore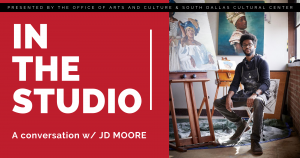 South Dallas Cultural Center introduces its new series In the Studio: a series of conversations with artists and their work. General Manager John Spriggins will discuss process, inspiration, and education with artists in the visual and performing arts. 
This week we present a JD Moore a local visual artist whose work as a tattoo artist, painter, muralist, and photographer presents a unique perspective an approach to image making. JD's has recently been commissioned to several murals around Dallas, and more specifically orchestrated the BLACK LIVE MATTER mural at Dallas City Hall. Watch the conversation here.