The South Dallas Cultural Center presents conversations with distinguished artists, scholars, and artistic leaders as they explore dynamics of art, culture, and expression. We are proud to introduce our newest series, In the Studio, featuring conversations with artists about their work. Hosted by John Spriggins, SDCC's General Manager, this program will discuss the creative process, inspiration, and artist development with creatives in the visual and performing arts.
These talks are FREE and virtual. Find the In the Studio Playlist and the Artist Talks Playlist on the SDCC's YouTube channel and subscribe.
In the Studio w: Nitashia Johnson
Nitashia Johnson was the pilot project and recipient of the 2020 Juanita J. Craft Artist Residency at the South Dallas Cultural Center, where she showcased The Beauty of South Dallas.
The project documents the neighborhood of South Dallas and several of its residents, business owners, and community leaders. South Dallas is a community rich in culture and history, but it is quickly changing. The goal of the project is to preserve a period in time that tells us where the neighborhood is before it changes.
In the Studio w: Aimée M. Everett
In this edition of In the Studio, we chat with artist Aimée M. Everett about her exhibition at the South Dallas Cultural Center, Paying Reverence to the Altar of Memories. In this series, Everett is honoring the memories that have been difficult and traumatic to confront and honoring those that keep hope as a constant. Her additional gallery, Seeing Ghosts: Revisited, is a blend of Everett's offering of protection to the Black community from the Bartlett Project and to highlight their history.
In the Studio w: Constance Y. White
In this edition of In the Studio, we chat with artist Constance Y. White about her previous exhibition at the South Dallas Cultural Center, Her Ephemeral Self. The life size collages are presentation of eight individual black women and generating affirmations as shared ideas of healing. The artist participated in this process as one of the eight women. Constance's continuous focus on beauty invites reflection and consideration for women (especially Black Women) to explore ideas and values of self.
In the Studio w: Jeremy Biggers
In this edition of In the Studio, we talk with artist Jeremy Biggers about his recent body of work Unspoken Burdens, a series of paintings and sketches that was exhibited at South Dallas Cultural Center in summer 2021. We discuss his work, education, influences, and creative process. Join us for this in depth discussion. Jeremy Bigger is a multifaceted visual artist with a long list of accolades. A graduate of Dallas' Booker T Washington School for the Visual and Performing Art, Biggers has developed his craft towards an amazing career.
In the Studio w: Talley Williams
Conceptual artist, Talley Williams, creates sculptural pieces that are inspired by her dreams, visions, and premonitions; work that evokes both spirit and nature. A self-taught artist, Williams sculptural pieces are inspired by her dreams, visions, and premonitions. Her work is deeply conceptual, evoking both spirit and nature to encourage conversation and reflection. Williams is based out of Dallas-Fort Worth, Texas.
In the Studio w: Rosie Lee
Through symbolism, iconography, and color, Rosie Lee's work explores the narratives that surrounds black aesthetic and culture. A native of Fort Worth, Texas, he recently graduated from the MFA program at Kendall College of Art and Design at Ferris State University.
In the Studio w: Loris Anthony Beckles
Loris Beckles is a choreographer and the artistic director of Beckles Dancing Company. An accomplished performer, Beckles has danced with prominent companies including the Eleo Pomare Dance Company, and the Alvin Ailey Repertory Ensemble (now Ailey II). He is trained in ballet, modern dance, and jazz.
In the Studio w: Chesley Antoinette
Chesley Antoinette is an artist, educator, and founder of Cantoinette Studios. The native Texan works with a focus on sustainable practices as she conceptualizes in the forms of sculptural installations, wearable art, and curatorial projects. Her exhibition, Tignon, is scheduled to open in Duluth, MN 2021.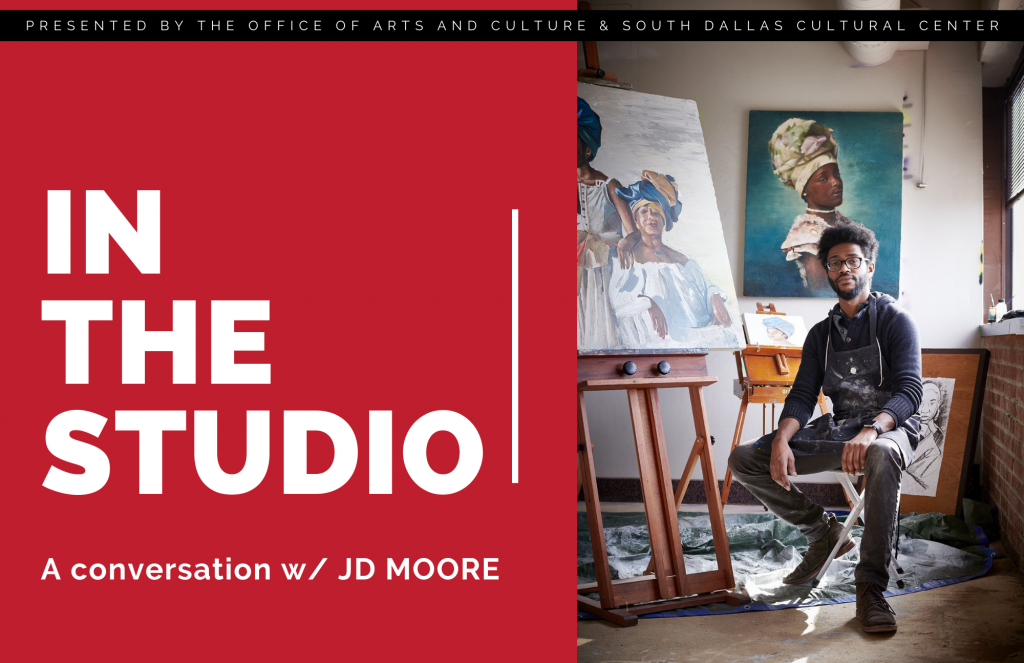 In the Studio w: JD Moore
JD Moore is a painter, tattoo artist, muralist, and photographer whose work presents a unique perspective and approach to image making. Moore was recently commissioned to complete several murals around Dallas, and more specifically, orchestrated the BLACK LIVES MATTER mural at Dallas City Hall.