All current exhibitions are free and open to the public.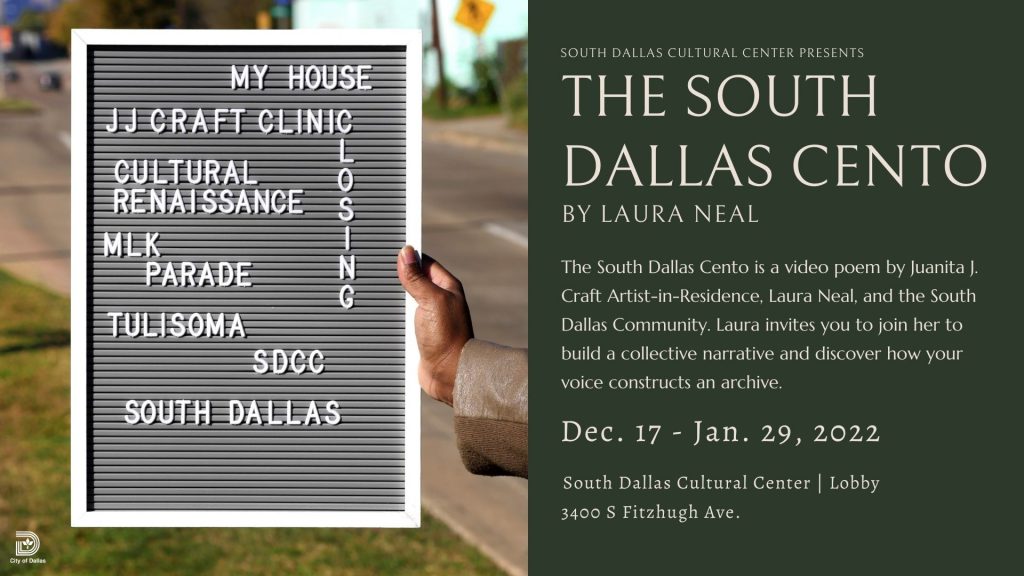 The South Dallas Cento
By Laura Neal | Dec. 17 – Jan. 29, 2022 | SDCC Lobby Area
The South Dallas Cultural Center is pleased to present, The South Dallas Cento, an installation featuring poet Laura Neal, a Juanita J. Craft Artist-in-Residence. The South Dallas Cento is a collaborative project between poet Laura Neal and the community of South Dallas. A cento is a poetic form comprised of quotations quilted from various sources and individuals. This installation documents the language of South Dallas residents and the voice of the late civil rights leader Juanita J. Craft to build an archive of the present and a collective narrative toward the future.
---
Paying Reverence to The Altar of Memories / Seeing Ghost: Revisited
By Aimée M. Everett | On view Dec. 10 – Jan. 29, 2022 | Arthello Beck Gallery
The South Dallas Cultural Center is pleased to present artist Aimée M. Everett and her new exhibition, Paying Reverence to the Altar of Memories. In this series, Everett is honoring the memories that have been difficult and traumatic to confront and honoring those that keep hope as a constant. Her additional gallery, Seeing Ghosts: Revisited, is a blend of Everett's offering of protection to the Black community from the Bartlett Project and to highlight their history.
---
ARTHELLO BECK AND EMERGING ARTISTS GALLERY
The South Dallas Cultural Center's two visual art galleries feature innovative and thought-provoking exhibitions that address a range of social and cultural themes. Our exhibition program presents influential local, regional, and national artists such as Phoenix Savage, Pucci Lisenbee, and Ciare Elle Bryant.
South Dallas Cultural Center's visual art galleries was named in honor of artist and long-time SDCC supporter, Arthello Beck. A South Dallas native, Beck dedicated his life to the arts and supporting African American culture. He traveled extensively, showcasing his works in cultural institutions across the world. By the 1970's, Beck and his wife, Mae, established the Arthello Beck Gallery in Oak Cliff, Dallas, Texas. Arthello Beck passed away in 2004 and our galleries became his namesake in 2007. The South Dallas Cultural Center is proud to pay tribute to Beck's unyielding creativity and his profound affection for the culture and lives of Black people.