All current exhibitions are free and open to the public.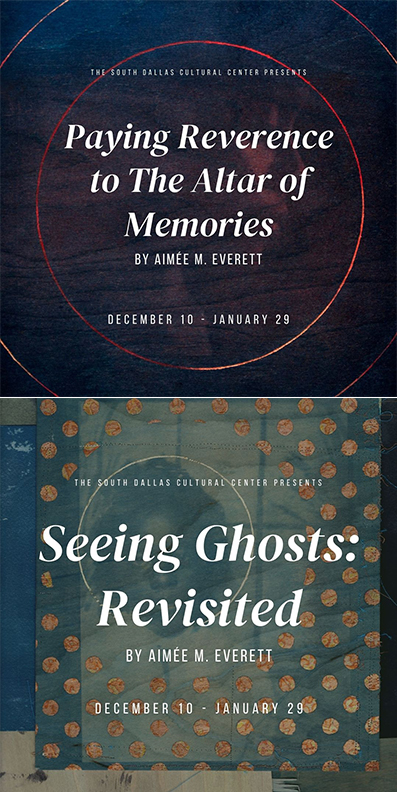 Coming soon:
"Paying Reverence to The Altar of Memories" & "Seeing Ghost: Revisited" by Aimée M. Everett
Opens December 10 – January 29 | Arthello Beck Gallery
The South Dallas Cultural Center is pleased to present artist Aimée M. Everett and her new exhibition, Paying Reverence to the Altar of Memories. In this series, Everett is honoring the memories that have been difficult and traumatic to confront and honoring those that keep hope as a constant. It was important to use self portraits taken at different stages in her life and combine the line work and color saturation that runs through her previous work. The work is shown in different memory chambers with no real timeline order, some are separate recollections. This is how the memories present themselves in her mind. She is investigating how I process these memories. Does the process of continued recollection remove a strain of truth with each recall? What will she find when she gives space to a memory purposely forgotten? She is also releasing the power some of the memories hold, not to cast them into darkness again, but for acceptance. If needed, forgiving the events that created them. This series is a living portfolio, new pieces are added when the memory deserves attention. She is beginning this journey of processing to offer them and herself Grace.
Her additional gallery, Seeing Ghosts: Revisited, is a blend Everett's offering of protection to the Black community from the Bartlett Project and to highlight their history. While this is not all or the end, it's important to honor those alive and gone. The original form of this piece was destroyed due to the carelessness of those entrusted to protect the work. The smaller collage works are still mighty in their protection. They made it through the destruction and still highlight the beauty and perseverance that defines the Black community in Bartlett, Texas. This portfolio is also living as she is currently working with the community to include new families in this collection.
The gallery is free and open to the public.
---
Coming soon:
"The South Dallas Centro" by Laura Neal
Opens December 17 | SDCC Lobby Area
"When I walk into the world, I consider how language conditions our experience. I wonder what histories and community cultures have been leveled by time and high-rises." The South Dallas Cento is a video poem by Juanita J. Craft Artist-in-Residence, Laura Neal, and the South Dallas Community. Neal is a black, Dallas-based poet, greatly influenced by social and environmental narratives. She is interested in poetry's ability to affect a society in a form analogous to religion, though compelled by a subtle call-and-response. She renders the ever-present experiences that occur everyday but go un-noted because of the standard lens of the "everyday." Laura and SDCC invites you to join her to build a collective narrative and discover how your voice constructs an archive. This gallery is free and open to the public.
---
ARTHELLO BECK AND EMERGING ARTISTS GALLERY
The South Dallas Cultural Center's two visual art galleries feature innovative and thought-provoking exhibitions that address a range of social and cultural themes. Our exhibition program presents influential local, regional, and national artists such as Phoenix Savage, Pucci Lisenbee, and Ciare Elle Bryant.
South Dallas Cultural Center's visual art galleries was named in honor of artist and long-time SDCC supporter, Arthello Beck. A South Dallas native, Beck dedicated his life to the arts and supporting African American culture. He traveled extensively, showcasing his works in cultural institutions across the world. By the 1970's, Beck and his wife, Mae, established the Arthello Beck Gallery in Oak Cliff, Dallas, Texas. Arthello Beck passed away in 2004 and our galleries became his namesake in 2007. The South Dallas Cultural Center is proud to pay tribute to Beck's unyielding creativity and his profound affection for the culture and lives of Black people.