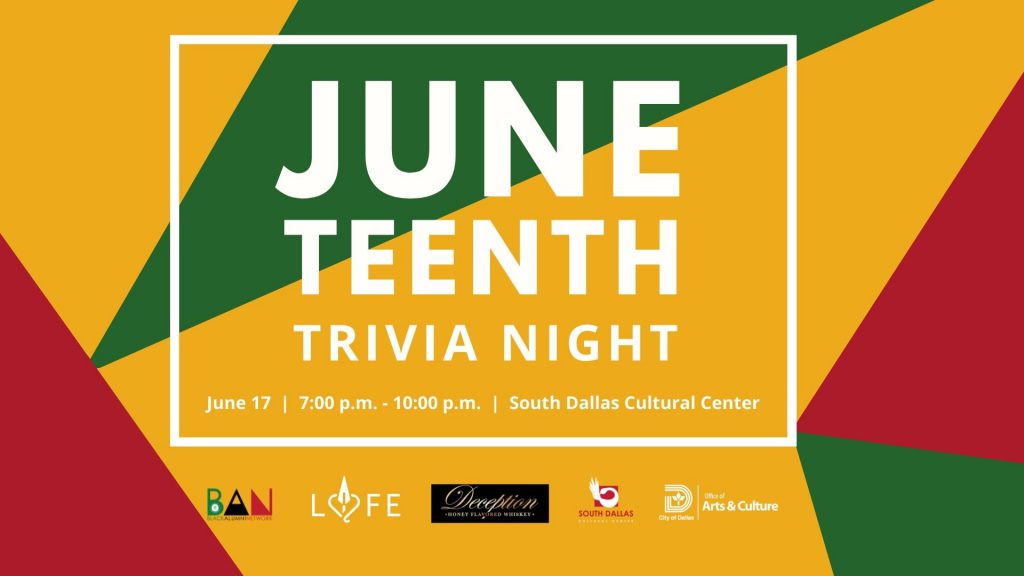 Juneteenth Trivia Night
Friday, June 17 from 7:00 p.m. to 10:00 p.m.
Calling all game lovers: save the date for Friday, June 17 to attend SDCC's first trivia night in honor of Juneteenth!
In collaboration UNT Black Alumni and LOFE, spend an evening with friends and family as you compete, engage, and learn about the Black community around arts and culture. This will be a free social event to celebrate Juneteenth as a national holiday.
This event is free with registration and must be 21 or older to attend. To learn more and register, click here.
---
Living Art Camp with Raise Your Voice
Summer Camp | June 6 – July 1
For four weeks students will learn about the wonderful contributions of the African diaspora in art with Raise Your Voice. They will explore photography, music, art, and spoken word. Each day they will be led by near peer instructors, community volunteers, and industry professionals to engage in hands-on, multimedia activities that will help them develop observation and technical skills in drawing, painting, printmaking, and various other art mediums. Camp will end with a celebratory gallery walk event that will showcase students' creative art and portfolios.
To learn more about Living Art Camp, click here.
---
The Smart Project
Visual Art Workshop | Fall classes and registration coming soon
Through their creative curriculum, The Smart Project strives to teach creative skills and character traits that will equip students with developmental skills that are beneficial for future careers in arts and technology.
Students will be exposed to enrichment activities and academic learning. The teaching Artists will observe and access strategies to retain student engagement during developmental projects. Students will be regularly urged to participate and reflect during creative exploratory learning.
To learn more, click here.
Ongoing Programs
Beckles Dancing Company
CLOSED FOR SUMMER | Ongoing Program | Wednesdays & Fridays at 5:00 p.m.
BDC classes offer a dance experience that allows folks of all ages to enjoy movement, stay fit, and express. Classes are by zoom or in person with masks & social distancing.
To learn more about their programs and classes, click here.
---
Dallas Malandros – Capoeira Angola Sao Bento Grande
CLOSED FOR SUMMER | Ongoing Program | Thursdays at 5:00 p.m. | Saturdays at 9:00 a.m.
Take a class with OS Malandros de Mestre Touro!
To learn more about their programs and classes, click here.
---
Looking to use SDCC for your next event? Click here to learn more about our venue rentals and how to submit proposals.