Black Legend Heirloom Workshop
Thursdays – February 9, 16, & 23 | 6:00 p.m. – 8:00 p.m. | South Dallas Cultural Center
Black Legend Heirloom Workshop is a four-week hands-on art experience with making your own Black Legend Heirloom led by 2022 Juanita J. Craft Artist-in-Residence, Camika C. Spencer. Participants will be provided with all supplies as they learn the value of how heritage and legacy can influence art. The theme of the workshop is "Crafting Ms. Craft" using Juanita J. Craft as the teaching model. Students will make two heirlooms. After the workshop, the heirloom will be on exhibit at the South Dallas Cultural Center for two weeks.
This workshop is free with registration. Participants must be 16 years of age or older and commit to all four classes to complete the workshop.
---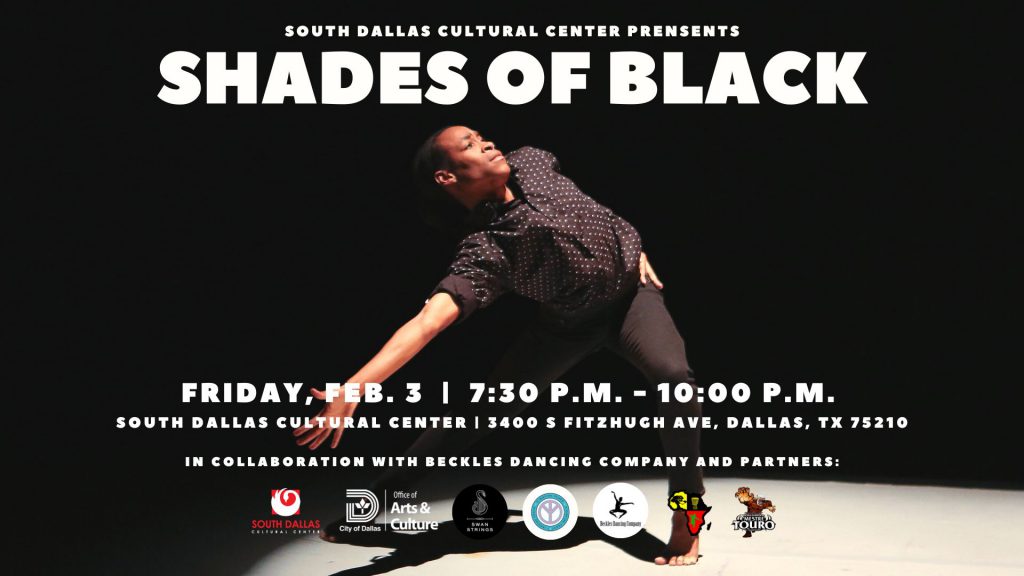 2023 Shades of Black Showcase
Friday, February 3 | 7:30 p.m. – 10:00 p.m. | South Dallas Cultural Center
Join the South Dallas Cultural Center and our partners as we celebrate Black History Month with our second annual Shades of Black program. We will present six works by talented arts professionals as we commemorate a range of Black experiences through the fluidity and power of movement and sound. We invite the community to come and enjoy a selection of dance, spoken word, and music in this 2-hour showcase.
This event is free with registration.
---
SDCC Music Lounge powered by Swan Strings
Friday, February 10 | Doors open at 7:00 p.m. | South Dallas Cultural Center
This music lounge is in partnership with Jess Garland of Swan Strings Music Program, a 501c3 non-profit organization with a mission to provide free music education, community concerts and sound therapy services to North Texan individuals without access.
This concert is free with registration. Limited seating available. Walk-ins are welcome but priority will be given to registrants while others will be waitlisted. Donations will help support free music education.
---
MVMTLS: Movement of Lone Stars
February 10 – March 24 | Opening Reception: Feb. 10 from 6:00 p.m. – 8:00 p.m. | South Dallas Cultural Center

This multi-media exhibition by filmmaker Adriane McCray centers on a film excavation of a Black collective memory with South Dallas starring as a supporting character. The film's sonic landscape is shaped around interviews that took place in the quarantine lockdown of 2020, tracing the memories of various Dallas residents on the subject of their childhoods. Its use of collected archival footage, present-day photography, home videos, and aged photographs creates a tapestry that travels from moment to moment in stark contrast to the environment in which these conversations took place. It is a candid peak at the power of collective memory – one that tracks the movement of these Lone Stars and yields a fragile truth and sacredness of the Black community.
This exhibition is free and open for public viewing from Feb. 10 – March 24, 2023. An opening reception will be held Friday, Feb. 10 from 6:00 p.m. – 8:00 p.m. at the South Dallas Cultural Center.
---
Love In Black: A Film Series
February 10, 14, 21, & 28 | Showtimes at 7:30 P.M. | Location varies
In collaboration with The Texas Theatre, City of Dallas Office of Arts and Culture, and GO3 Vodka, the South Dallas Cultural Center is happy to present our second annual Love In Black program, a film series representing Black love. Through the month of February, we're inviting the community to join us as we showcase four well-established movies focused on what it means to find, develop, and grow in love. Grab your friend, boo, or come solo and enjoy this four-week program full of film, Blackness, and love.
---
South Dallas Reflections: a mosaic of community memories and oral history
Wednesday, February 22 | 6:00 p.m. – 8:00 p.m. | South Dallas Cultural Center
Linda Jones, journalist and 2022 participant of the Juanita J. Craft Artist Residency Program, held oral history interviews with South Dallas residents and others who are familiar with the neighborhood. She took excerpts of those recorded conversations and compiled an audio-visual mosaic of their heartfelt stories and reflections about the community's past and shared feelings about the area's present and future.
This presentation is free and open to the public; registration is encouraged.
---
He Gone Cry In The Car
Friday, February 24 | 6:00 p.m. – 9:00 p.m. | South Dallas Cultural Center
2 Inspire Peace and The Art Inspired Healing Collective presents He Gone Cry In The Car, an artistic exploration of Black male pain. This event will showcase and highlight how Black men face and do not face their issues. Mental health is real in our community, and its time to Heal!
This event is free with registration.
---
Looking to use SDCC for your next event? Click here to learn more about our venue rentals and how to submit proposals