Let's honor Juanita Craft's legacy by learning skills to enlighten our future. This series is inspired by her motivation to create change through creative means and make the community better one person at a time.
New Year, New Skills will return in 2023. For more information or questions, email us at SDCCinfo@dallycityhall.com
---
Previous Workshops:
Collage Workshop: What's in Your Highlights Reel? | Friday, Feb. 11 | 6:00 p.m. – 8:00 p.m. : As we continue the celebration of Juanita J. Craft's life, join artist, Constance Y. White in a free 2-hour adult collage workshop. We invite you to explore the medium of paper collage through a fun process of bringing your vibrant story to life. You will enjoy reflecting and visually celebrating what you have accomplished, no matter how big or small. Learn the creative craft and basic techniques of storytelling through narrative collage-making. Discover why there are no mistakes in this process and how to have an entertaining time cutting and gluing paper. You're a big deal! Why not create an artwork that expresses your recent and past accomplishments?
Her Truth: A Women's Poetry Workshop | Saturday, March 12 | 2:30 p.m. – 4:00 p.m. : Celebrate National Women's History Month by discovering poetry written by and for women of the African Diaspora. In this free 90-minute adult workshop, The Writer's Garret will guide guests as they learn about the life and times, what influenced the writing styles of Alice Walker and Nikki Giovanni, and how their work have inspired contemporary artist. Lastly, participants create their own works of poetry.
History and Spaces: A Photography Workshop | Saturday, March 19 | 11:00 a.m. – 2:00 p.m.: This photographic workshop is led by artist Nitashia Johnson, creator of the Beauty of South Dallas and The Self Publication. This class will work to highlight our personal stories as they relate to our environments. Participants will learn to use photography as a form of storytelling and preserving history. Materials Needed: 1. Vintage image of yourself 2. DSLR, Mirrorless, or camera phone 3. Your great energy! This class is open to ages 16+. There are 12 seats reserved for this workshop.
Floating Feather Fascinators | Saturday, March 26 | 3:30 p.m. – 5:00 p.m. : Learn how to make an easy-to-wear fascinator and join in the discussion on the history of hat making and how it helped give women career options, like Juanita J. Craft. Instructor Cassie MacGregor from The House of MacGragor will walk you through the construction of feather flowers on a vine using glue, wire, and wooden beads. Then you will attach the vines onto premade hat bases and don your creations for tea and pictures.
Creating Out Loud: Printmaking with a Purpose | Saturday, April 16 | 11:00 a.m. – 4:00 p.m.: Paying homage to Juanita Craft and Dr. Martin Luther King Jr., join us for this free 5-hour adult workshop where participants will learn how to make a two-color linocut and historical information on how printmaking was used to produce posters and inspire youth in the Civil Rights Movement. This class is led by Matt Bagley of Iron Frog Press.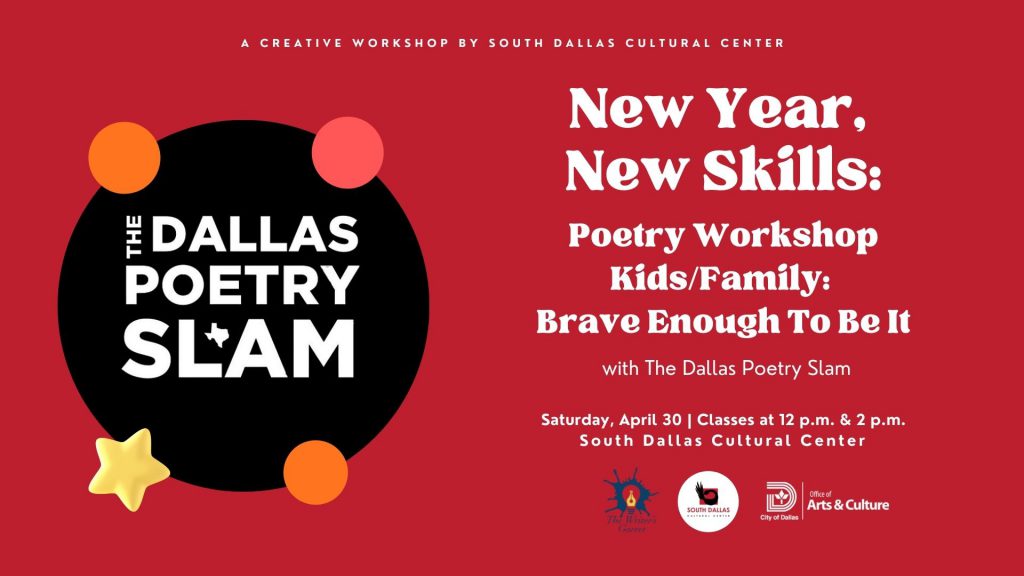 Poetry Workshop Kids/Family: Brave Enough To Be It | Saturday, April 30 | 12:00 p.m. – 1:30 p.m. (Ages 8 – 11) and 2:00 p.m. – 3:30 p.m. (Ages 12 -14): Celebrate National Women's History Month! In collaboration with The Writer's Garret join Artist Sherrie Zantea of The Dallas Poetry Slam at SDCC to explore and learn about African American Women Poets. Amanda Gorman asks, "How can we find light in this never-ending shade?" in the first stanza of The Hill We Climb her inaugural poem. She answers it in the last stanza by saying "there is always light if we're only brave enough to see it, if only we're brave enough to be it. In this 90-min workshop, you will discover how female African American poets have shown their light on American social problems and racial injustice and create your own works of poetry. This is a family-friendly workshop designed for children 8-14 years old. Parent participation is welcome! Registration is limited to one (1) parent per child. Tickets are needed for kids only. Seats are limited for this workshop and is "first come, first serve" with registration.
Outside the Box, An Intro to Abstract Art | Wednesday, May 18 | 6:30 p.m. – 8:00 p.m.: Learn and understand the basic elements and principles of design, explore different mediums and create your very own masterpiece with Ashley Veluah J. of The Coloring Boxx. You'll be exposed to various African and African American artists/art to use as references in applications of certain elements and principles. This class should help build confidence, and inspire you to activate and engage your creativity.
Creating Colorful Gardens | Saturday, May 21 | 12:00 p.m. – 2:00 p.m.: In collaboration with Dallas Innovation Alliance (DIA), join us at SDCC to create colorful pieces to display in your garden, front yard, or even your kitchen counter. In this free 2 hour session, you will learn about various life cycles, create unique pots to display the things that bring you joy, and a plant that you will be able to take home and watch grow. You will learn about the good and bad bugs in your garden while using this knowledge to create bug-like rocks and attract the good critters to your plants. This is a family-centered event that invites parents to participate with their kids. Seats are limited for this workshop and is "first come, first serve" with registration. To register, click here.
---